30A, also known as Florida's Scenic Highway 30A, is a beautiful stretch of coastline that offers a plethora of fun activities for both locals and tourists. From stunning beaches to picturesque towns, there is always something to do on 30A. In this article, we will explore some of the fun things to do on 30A.
Hit the Beaches: 30A is home to some of the most beautiful beaches in the world. The crystal-clear waters and sugar-white sands are perfect for swimming, sunbathing, and building sandcastles. Some of the most popular beaches on 30A include Grayton Beach, Seaside Beach, and Santa Rosa Beach.
Go Biking: Rent a bike and explore the many bike paths that run along the 30A. This is a great way to take in the stunning scenery and get some exercise at the same time. You can rent a bike at several rental shops along the highway.
Visit Seaside: Seaside is a picturesque town that is famous for its pastel-colored houses and beautiful beach. This town is perfect for a leisurely stroll, and there are plenty of boutiques and restaurants to explore.
Try Some Water Sports: 30A offers a variety of water sports, including kayaking, paddleboarding, and parasailing. You can rent equipment and take lessons from several vendors along the beach.
Take a Hike: The Point Washington State Forest offers several hiking trails that range in difficulty. The trails wind through the forest and offer beautiful views of the surrounding landscape.
Go Fishing: The Gulf of Mexico offers some of the best fishing in the world, and 30A is no exception. You can book a fishing charter and try your luck at catching red snapper, grouper, and other fish.
Visit the Farmers Market: The 30A Farmers Market is open every Saturday and Sunday and offers a variety of fresh produce, local honey, and artisanal products. This is a great way to support local farmers and businesses.
Enjoy Live Music: There are several venues along 30A that offer live music throughout the week. From beachside bars to intimate music halls, there is always something for music lovers to enjoy.
Take a Day Trip: 30A is located near several popular destinations, including Destin, Pensacola, and Panama City Beach. You can easily take a day trip to explore these neighboring towns.
30A offers a wide range of activities for visitors of all ages. Whether you're looking to relax on the beach or explore the local towns, there is always something to do on 30A. So, pack your bags and head to Florida's Scenic Highway 30A for a fun-filled vacation!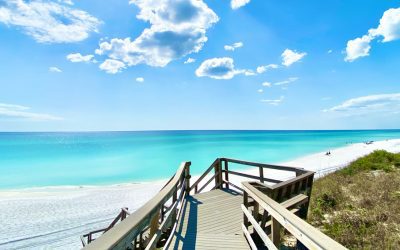 30A is a stunning stretch of coastline located in the Florida panhandle, famous for its pristine beaches, crystal-clear waters, and upscale beach towns. The area covers approximately 26 miles of shoreline and is known for its laid-back, luxurious vibe. In this blog...